IFukTinyHolez68's Profile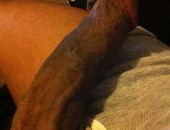 User Information
Username:
iFukTinyHolez68
Sexual Orientation
: Straight
City
: Your throat
State
: WI
A little about me...
Straight black guy here. Into taboo and wild forbidden subjects. My dick likes tight throat n even tighter pussy. Lookin for like minded people to chat with. Love poppin some virgin dog pussy. Hmm!
IFukTinyHolez68's Recent Uploads
User has not uploaded anything!
IFukTinyHolez68's Friends
You do not have any friends added!