VaimoPaljastaja's Profile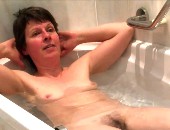 User Information
Username:
VaimoPaljastaja
Sexual Orientation
: Straight
State
: UK
A little about me...
I'm here to reveal my conservative, sexy, shy wife for your wanking pleasure:

Barbara Logan
Age: 60
height: 5' 4"
bust: 34A (though never wears a bra)
dress: size 10 (UK)
Gloucestershire UK

Despite her age she's wonderfully fit and slim and has the tightest, juicy cunt for fucking.

She would never agree to try any of my fantasies, but I dream of watching her taken by a dominant bull, being barebacked by black cock or as a fucktoy slave in a no-holes-barred gangbang. Watching her as a bitch to a huge K9 knot or as mare to a pony stallion's flare would be awesome.

So instead I get immense pleasure knowing that others are watching her videos and wanking cocks or frigging clits - and I'd LOVE to see her spread around other sites, too.

**YOU HAVE MY PERMISSION to save and repost all videos of my wife Barbara**

Please msg me here to tell me where else you have reposted her. Cock and cum tributes very welcome!

John
VaimoPaljastaja's Recent Uploads
VaimoPaljastaja's Friends
You do not have any friends added!